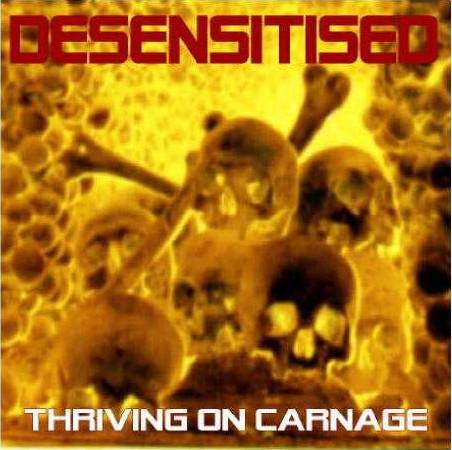 Find out everything you want to know about the new album Thriving on carnage


30-10-2001

The member section has been updated. A picture of bass player Mark Raets has been added and additional info on each member will follow shortly.



---


28-10-2001

You can now check out mp3's of DESENSITISED on our page at mp3.com.



---


24-10-2001

Several people have reported difficulties involving downloading of our soundclips. A page at mp3.com is currently being built and will be opened shortly.



---


25-9-2001

The site has been updated. Mp3's have been added to the new album section. Check out the band members' favourite sites on the links page.



---


25-9-2001

Rutger is planning to leave the band in the near future. The band is therefore looking for a new drummer. Do not hesitate to contact us, if you're interested.



---


21-9-2001

On September 20th the band returned to Asse to mix the recorded material. They are very satisfied with the final result.
Read all about the new album Thriving on carnage !!



---


16-9-2001

On Saturday September 15th, Desensitised recorded 7 tracks of death/grind at 'De Studio' in Asse, Belgium. Bass player Mark Raets (Rimmshot) has helped the band out in the studio.