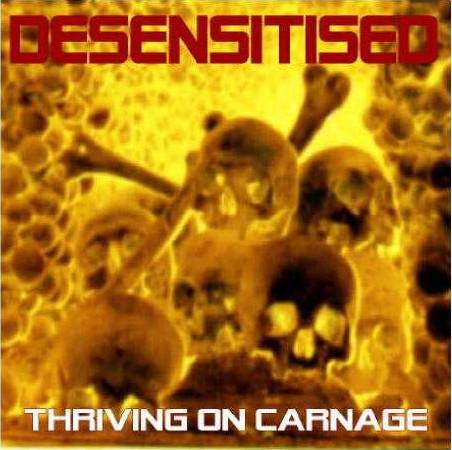 Find out everything you want to know about the new album Thriving on carnage



DESENSITISED was formed in 1994 by Jozef (bass/vocals), Susan (guitars/vocals) and Rutger (drums/vocals). As the songs developed, the band realised it became more and more difficult to play and sing at the same time, so they decided to look for another singer who was found in the person of Jo. In 1995 they recorded their first demo called "Your final ride". (The band was called CATAFALQUE at the time).
Jo left the band one year later and they continued as a threesome again. With this line-up the band played several gigs in The Netherlands, Belgium and Germany with bands like Dead Infection, Rot, Inhume, Agathocles, Malignant Tumour, Rebaelliun and many more.
Due to a series of line-up changes the band was forced to stop for a while.
At the end of 1998 they started afresh with the following line-up: Susan (guitars), Steven (vocals) and Rutger (drums). Not being discouraged by the fact that they did not have a bass player the band started to perform and write new material again.
In September 2001 the band changed their name and recorded their debut CD, which contains seven songs of extreme death metal incorporating elements of grindcore.